News - w/c 26th June 2023
Weekly News Summary including Light & Dark Palettes, Sankey & Radial Charts and the non 2023.3 Beta Preview.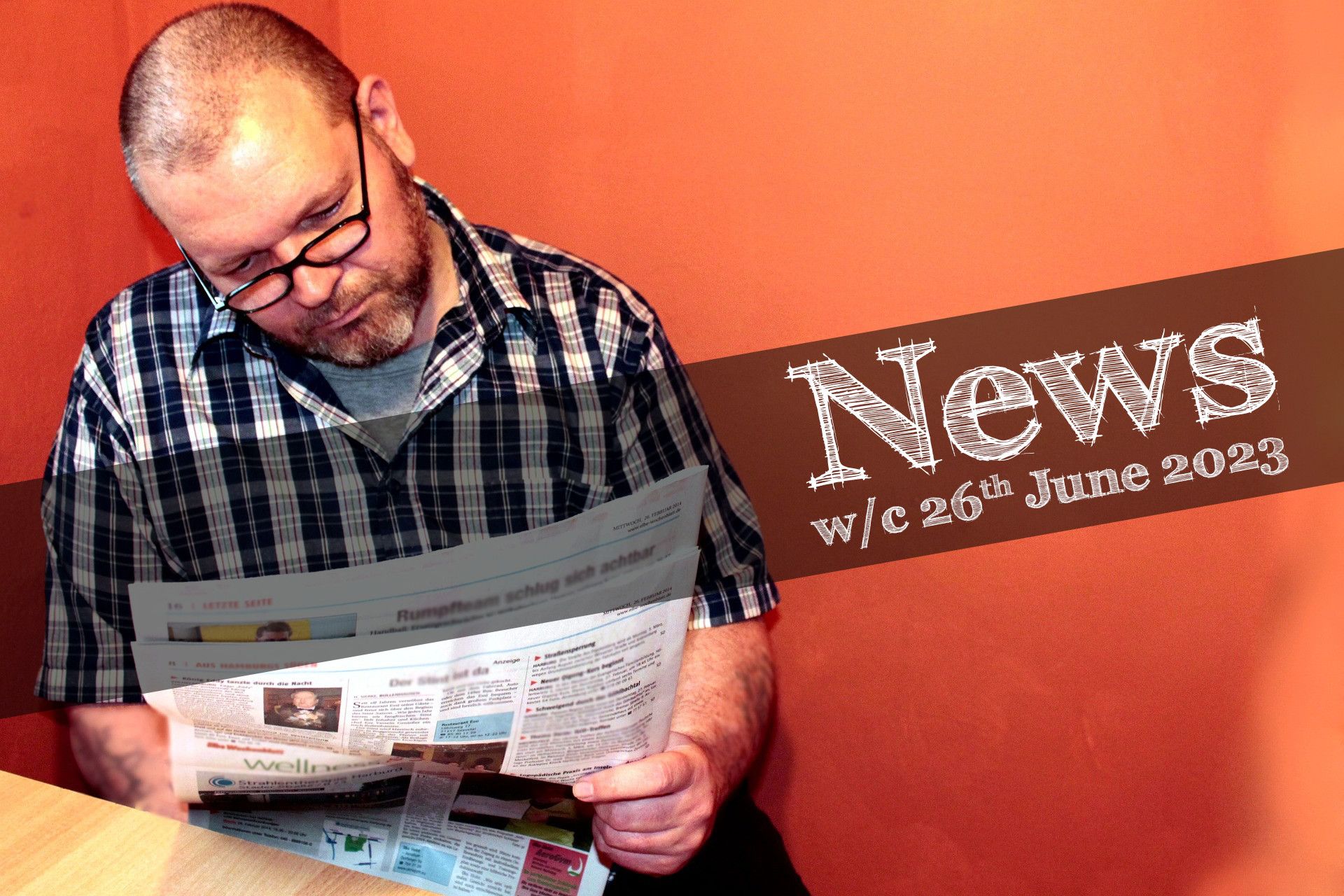 Light & Dark Palettes
Whitney (@xrayattack) picked up that you can now toggle between a light and a dark palette when formatting colours in Tableau Web Edit. Yea - can't tell you how many times I wished that you could just pick a darker colour without having to go through multiple dialogs. No sign of this in desktop yet, so is this a feature that is coming soon or is it a sign that Tableau are going to have different feature sets for Desktop and Web Edit 🤷🏻
---
Sankey Charts & Radial Charts
Tableau added these to Tableau Public in April as a trial. The trial finished on the 30th of June. Will they return? Who knows, but we can hope.
The original post about them is here Exploring Sankey and Radial Charts with the New Chart Types Pilot on Tableau Public.
You can still create these charts of course, but it'll take a bit more effort 😊.
If you need to create a Radial Chart (aka Coxcomb Charts), I've used the method from Ken Flerlage outlined in this post Tableau Coxcomb Chart Template with some success. Be warned they are complex and you need to follow the examples closely even to the point of creating the calculated fiellds in the correct order. If it goes wrong, debugging it is next to impossible, and it's probably easier to start again. I had an interesting discussion with Sam Parsons about this - virtually all of the tutorials you find on the internet just give you a list of steps to follow and calculated fields that you need to create to make one. No one really goes into the why of how works in Tableau. It makes you wonder if the results have been achieved by experimentation rather than by design 🤔
If you need to create a Sankey diagram there are a lot of tutorials out there that cover this. The Flerlage Twins have a number of posts on their blog about it.
Tableau 2023.3 Beta Preview nearly launched
On the 26th June at 11:17pm I was excited to get an email inviting me to the next release of Tableau Beta Preview. Though I was a bit less impressed that it was addresseed to Hello %%firstname|%%! 😂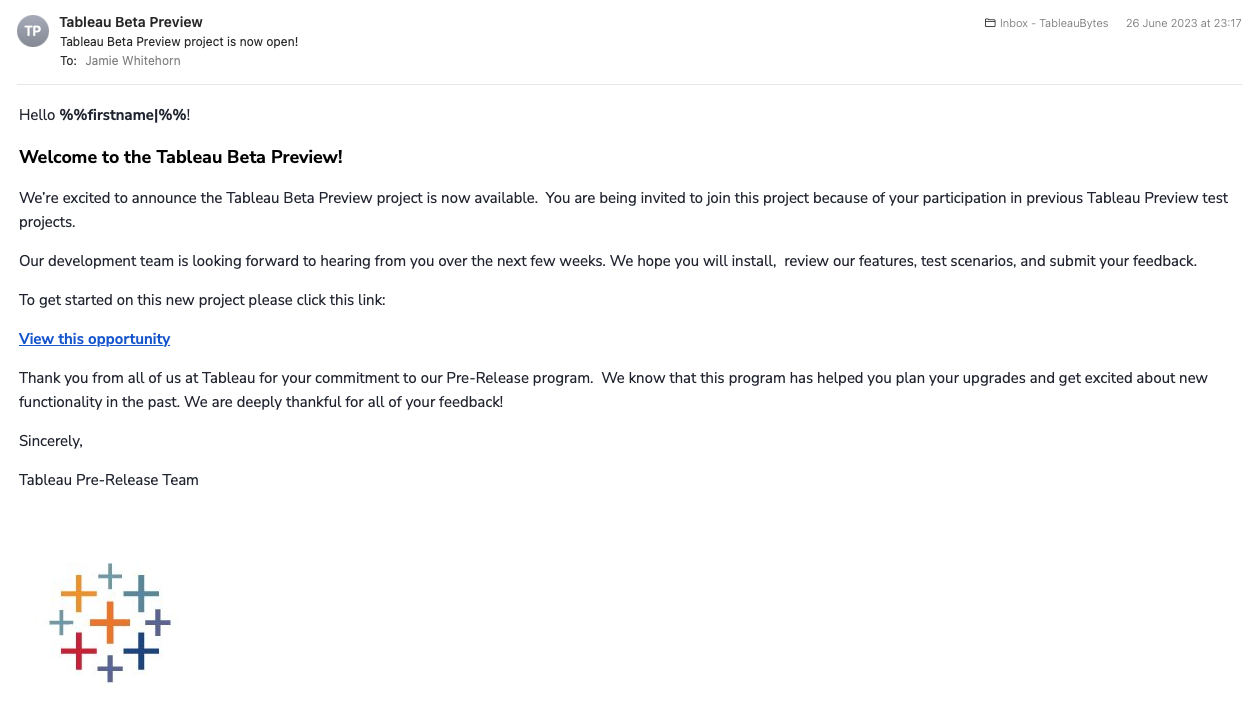 Clicking the link didn't work, but I figured it might still be going live. Sadly two days later another email arrived telling me to disregard the first.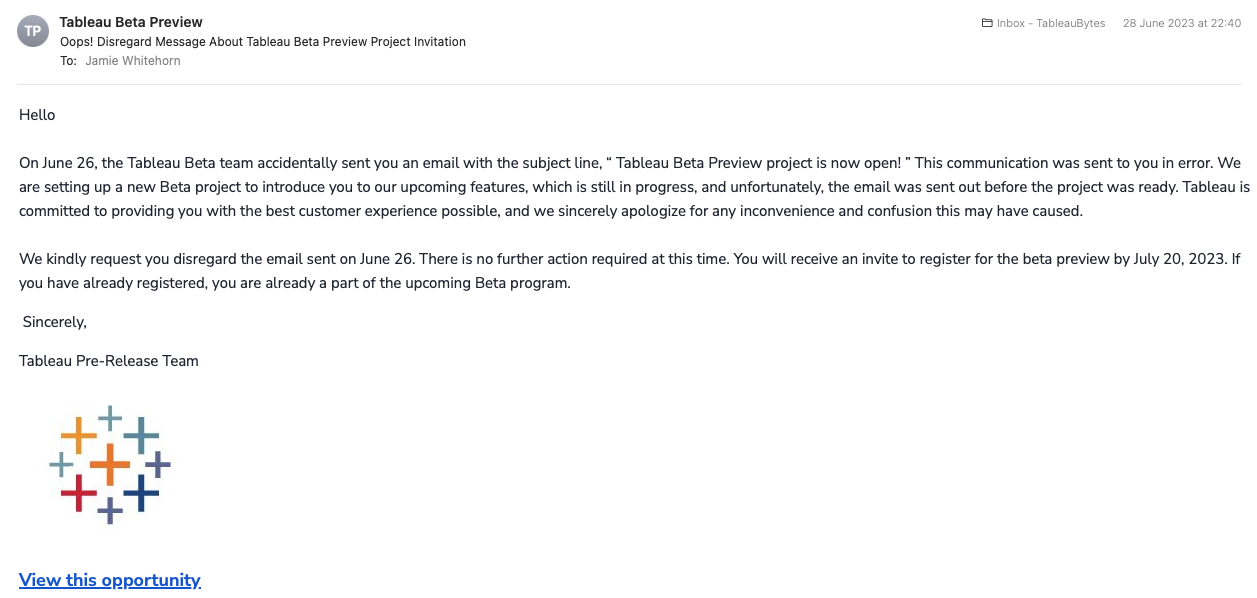 By the looks ot it the 2023.3 Beta Preview will actually launch in mid-late July. Ho hum ... I wonder if it'll contain any new chart types ... and Light & Dark Palettes in Desktop 🤔
That's it for this week - enjoy 😊
---
"In the case of news, we should always wait for the sacrament of confirmation."
— Voltaire